Taco seasoning from a packet can be a quick and easy way to make tacos but unfortunately most packets have added sugar and a lot of carbs.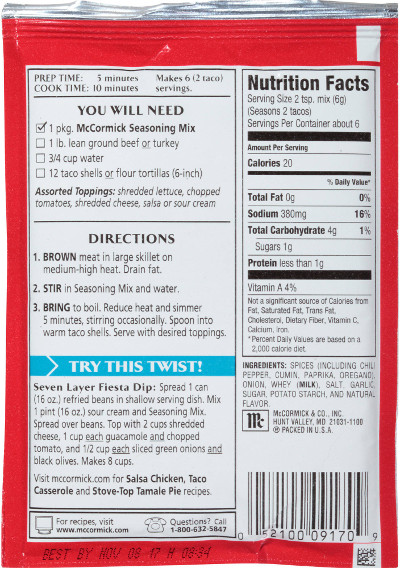 As you can see a typical packet has 24 Total carbs per pound of meat.Luckily it is easy to make your own taco seasoning from spices you probably already have.
Here is what I use, you can experiment with the spices to get the taste that you desire.
Ingredients (For 1 lb of meat):
2 tsp cumin
1/2 tsp paprika
1/2 tsp chili powder
1/2 tsp garlic powder
salt & pepper to taste
*For spicier taco seasoning you can also add Cayenne pepper
Instructions:
Brown 1 lb of meat
Add salt & pepper while browning
Once browned, add other spices
Add a little water if its dry and not mixing in well
Mix well, and taste. Make adjustments as needed to your taste.
Eat some tacos guilt free! Use these zero carb / keto friendly taco shells to have a taco shell guilt free too! https://youtu.be/QuGlF6dg-Cs
Nutrition:
Calories: 28
Fat: 1.17 g
Total Carbs: 4.2 g
Net Carbs: 2.8 g
Protein: 1.4 g
If your meat is a little dry you can add a little water to help mix in the spices and let it simmer.
Calories & Macros can vary depending on brands.